Our driveway gate contractor has worked hard to earn the trust of the residents of San Fernando. Among the various services we offer to our diverse customers, swing gate San Fernando services now have a reputation. Whether it is about a commercial, industrial or residential location, experience technicians have always succeeded to install flawless structures and make them work just like the clients want.
The enclosure of a designated space is important in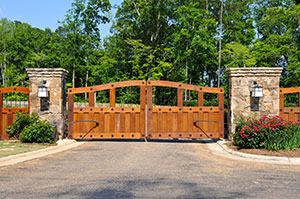 forming one's first impression.
When you receive guests at you home, you want them to feel welcome and be inspired by the gate they see. Design is essential here, but so is functionality. Many have realized that a positive image is supported by a double gate, one that is split in two in the middle and opens in a traditional manner, yet it has behind an automated mechanism. This is beautiful and modern at the same time. Our swing gate San Fernando service is here to help you have one such system installed, brand new, or you can opt to make an upgrade to an existent one.
Clients call us to do either part of the work, for example when certain parts need repair or upgrading, or to complete an installation work from level zero. Either way, our company does its best and works with top materials and brands available on the market. When one component gets damaged, it is still us you have to call. Our experience with the various models and brands lets us perform quick repairs and for a reasonable price. Our swing gate repair service targets the swing gate operator which got broken, but not only. It could be any part of the mechanical or electronic system.
Swing gate adjustment is one of the common tasks we have to complete. Sometimes, the problem is not a complicated one, but it can get much more serious if it is neglected. If we perform an early check, we will spot troubles before they get to spread. When damage gets deeper, then replacement is necessary. This could cost you more than our swing gate adjustment. Perhaps we only need to work on the swing gate hinges or cater to some loose pieces. Little incompatibilities can turn a good functioning gate into one that responds slowly or doesn't move the way it was supposed to.
Have you ever been in a situation when a gate closed and got you or your car closed in between? To avoid this, there is a special mechanism to be installed, which prompts the gates to immediately reverse their move, freeing what was caught. A safety loop helps doing this. We can install swing gate safety loops sensors, thus making sure you will not have to face this kind of trouble.
Resistance in time demands for appropriate maintenance of your automated gates. Monitor its functioning, note any error that occurs, and let us know in time. However, if we perform the minimum maintenance tasks, you won't have to call us too soon for additional repairs. Our swing gate post repair service is enough to make the newly improved system functional for a long time. Always enjoy the best and live without stress with the professional swing gate San Fernando companies. We are proud to be one of these and to have served such a large base of clients.